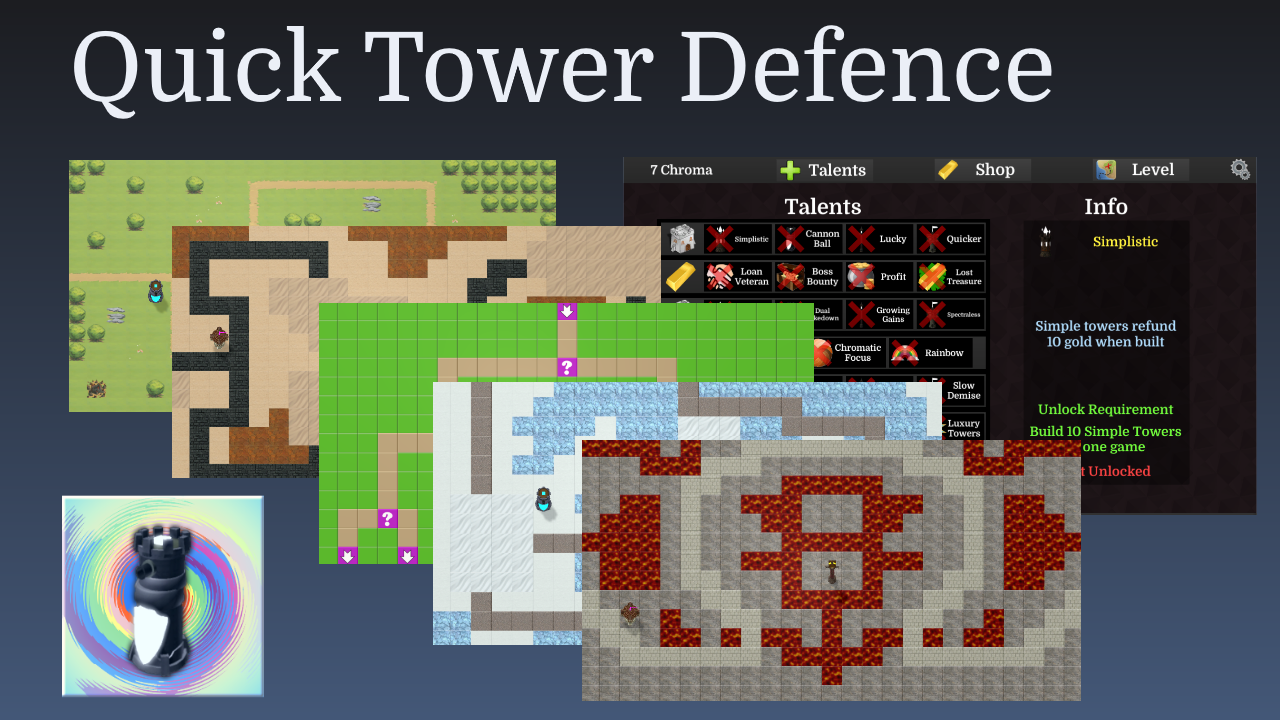 Quick Tower Defence
A downloadable game for Windows and Android
Quick Tower Defence
Quick Tower Defence is a Tower Defence where you choose colours, upgrades and talents for your towers to defend against scores of enemies
Features:
24 Game Maps to Play on!
Adjustable Difficulty Level!
45 Different Upgrades to Purchase!
4 Unique Towers with 12 Possible Tower Abilities and 18 unique Colors to Choose from!
7 Tiers of Talents to Unlock for a total of 26 Distinct Talents!
Map Editor lets you Create and Play your own Custom Maps!
---
Jungle Expedition (for PC)
Cross the sea and head toward a Jungle of mystery to find lost treasure in this extra adventure for Quick Tower Defence.
This pack contains:
10 maps following your jungle expedition ranging from difficulty levels 25 - 50

Harbor
Scattered Isles
Overgrown Shore
Wild Thicket
Jungle Road
Forgotten Lake
Treeside
Deep Jungle
Precipice
Lost Ruins
2 bonus maps (Under the Couch[11] and Junglemaul[60]) are included for extra fun!
A new Talent unlocked after completing the adventure
3 new Upgrades to be purchased during your travels
25 new tiles for the Map Editor that you can use to bring your maps to life
---
Instructions & Controls
Click tiles to build towers on them. Click towers to see Status and Upgrade them (once unlocked). Use Chroma earned from playing maps to buy Upgrades for your towers.
You can Enable/Disable Health Bars and Damage text in Settings (along with other stuff) by clicking on the Gears Icon.
Instead of clicking you can also use 1,2,3.. = to select an upgrade and Space to upgrade a Tower. Hotkeys can be changed in the Settings.

---
Installation
Quick Tower Defence
Just unzip and start the exe.
Jungle Expedition
Run the game without the adventure first
Copy the Jungle Expansion folder into the game's Adventure folder
This folder is likely C:\Users\[Your User Name]\AppData\LocalLow\Justin Moore\Quick Tower Defence\Adventures
Start up the game and you should see the Jungle Expedition maps on the 2nd page of maps
Download
Click download now to get access to the following files:
Quick Tower Defence
13 MB
Jungle Expansion (For Windows)
22 kB
QuickTowerDefence.apk
21 MB
Also available on